Stokem, the most robust, 100% stainless steel, outdoor wood burning stove
14 days free return
5 year warranty
The most robust outdoor stove
Low emission burn
Click the dots in the picture to see the different colours!
A wood stove creates warmth of course, but above all a nice cosy atmosphere
ROBUST due to the 316L stainless steel design
COOKING in your Stokem with a Dutch oven, a BBQ grill plate or a pizza oven
BEAUTIFUL sand-blasted matt finish or black painted
Fascinating how the steel changes colour and creates PATINA based on your personal burning behavior
Comfortable because you are NOT BOTHERED BY SMOKE because of the door and the high chimney
5-year WARRANTY because we have made it to last
Who is Stokem?
We are Stokem. Gidy and Arno. We both love the outdoors. If its work, sports or play, being outdoors makes you feel better. With Stokem we have been able to combine our passion with work. Developing, producing and selling products which are durable and which make people happy. Products we believe in and that we use ourselves. Chop the wood, make a stack and…STOKEM
What do our customers think...?
Stokem under your porch
If you have built a porch it is of course great to put a stainless steel wood burning stove under it. Enjoying the lovely long days while staying warm besides the stove.
With a Stokem it is really simple to achieve this! For every type of porch we have a complete kit of stove, piping and installation equipment to go through or around the roof. All you need is a handy man to do the job. Want to learn more?
Cooking in your Stokem outdoor wood stove
Outdoor cooking is hot! More and more people are discovering the pleasure of making a meal outside in your own garden.
This is perfectly possible in your Stokem! Fry sausages or a hamburger on the BBQ grill. First make a wood fire and then BBQ on the remaining glowing coals. But making a stew in a Dutch Oven is no problem either. You hang this on a hook in the Stokem and the oven hangs bubbling in the fire. Finally, we made a pizza oven that you can mount in your Stokem. In it, you can make a delicious crispy fresh pizza in minutes.
Go wild and cook in a Stokem!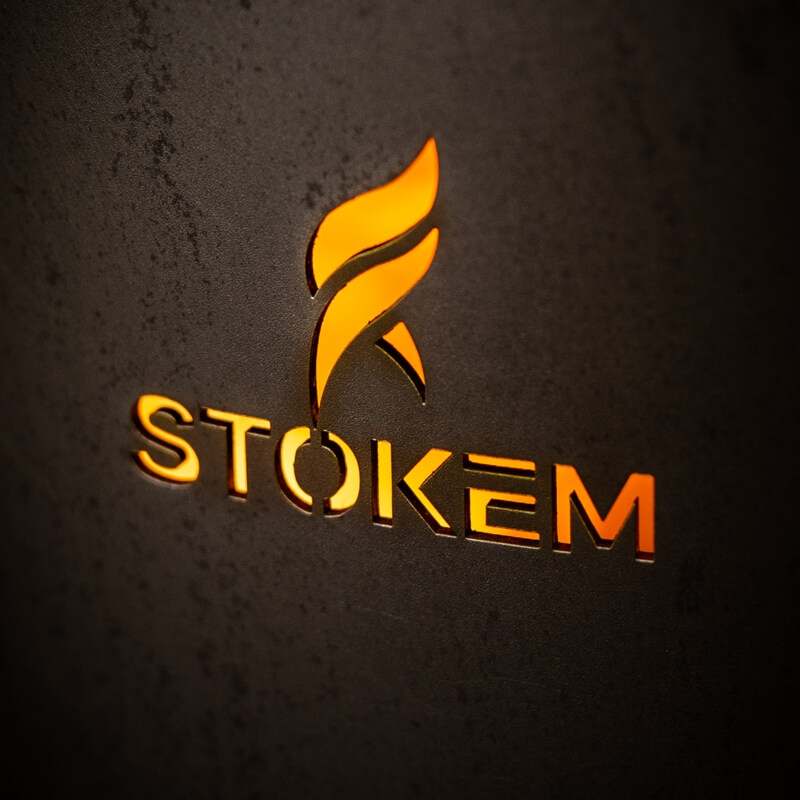 Quality lasts
A garden stove has a hard time in everyday life. Always outside in wind and weather, huge temperature differences of 500 degrees, expanding due to the heat and contracting again when cooling down. Not easy…
The only way to make a durable product is to use top-quality materials. A Stokem is made entirely of stainless steel. The boiler itself is made of RVS316L which is also used for marine shipping. The other parts are made of RVS304. The window is 4mm thick Robax glass from manufacturer Schott. Finally, all fasteners are also made of stainless steel.
Nothing is left to chance because we strongly believe that a durable product should last a lifetime!
Your own Patina
The Italian word patina stands for the oxidation layer on metal after exposure to air and moisture. Stainless steel also shows patina due to exposure to air, moisture but also heat. This discolouration of stainless steel is great to see and depends largely on your firing behaviour. The more you heat, the more discolouration will occur.
Straight out of the box, the garden stove has a 'dull' metal-grey colour. During the first fire, this already changes into a brown/bronze/purple/blue/gold colour palette. Advice is therefore to fire the first time in daylight so you can see the metamorphosis take place.
Clean and fast burn
Of course, the first requirement for an outdoor wood stove is to burn as completely as possible with little smoke development. Lots of flames, good heat output and a spectacle to behold.
Stokem has made this possible by enclosing the combustion chamber with a door and window. The lower airflow gives primary air to the fire and the upper one provides a secondary flow that keeps the window clean. To also start the fire easily and quickly, a 'kickstarter' position has been added to the door which creates a cyclone effect in the combustion chamber and makes the fire pick up rapidly.
Click here for more info on the wood and how to fire it for a good, clean fire.
From 899,00 Euro
Do you want to spend more time outdoors? Together or alone? Order your Stokem outdoor wood stove now.
Do you want to see a Stokem in real life?
Check out the Stokem at one of our customers
Direct contact?
Call us at: +31402833494
Did you know you can also order fire wood with Stokem?
Become an ambassador and earn your money back
We, at Stokem, have done our utmost to develop a high quality wood stove that brings a great mood into your garden. We want our customers to be happy. And happy customers are our best ambassadors.